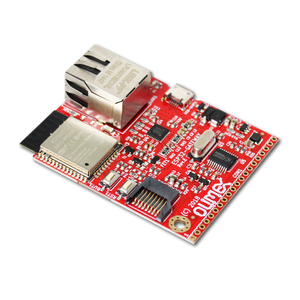 ESP32-GATEWAY [obniz Cloud No Expiry Licensed]
Shipping:
Back-order Item : (Normally) shipping in 3-4 weeks.
ESP32-GATEWAY is Ethernet enabled ESP32 development board.
Feature

Ethernet 100Mb interface
obnizOS Pre-Installed
Vendor URL:
https://www.olimex.com/Products/IoT/ESP32/ESP32-GATEWAY/open-source-hardware
ESP32-GATEWAY Features
MicroUSB connector
CH340 USB serial converter
WiFi, BLE connectivity
Ethernet 100Mb interface
MicroSD card
GPIO 20 pin connector with all ESP32 ports
Dimensions: (50 x 62)mm ~ (1.95 x 2.45)"
Precaution
If the program (obniz id) written in this device is overwritten, the operation as obniz cannot be guaranteed.
---
We Also Recommend