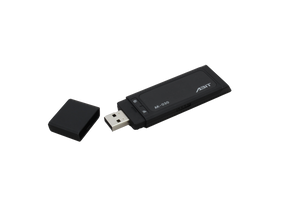 AK-030 LTE Cat.M1 USB Dongle [obniz Cloud No Expiry Licensed]
Shipping:
In Stock : shipping in 2-5 business day
Out of Stock : (Normally) shipping in 1-4 weeks.
Wi-Fi/LTE Enabled USB Dongle Device.
This is obnizOS pre-installed and official Cloud license appliedl device. 
This let you control BLE devices around a gateway from your Cloud or Smartphones.
4 Pins (2 Power 2 IO) let you control electrical parts controlled from the cloud.

We ship with the serial code will be attached to the main unit and the box.
LTE Cat.M1
Wi-Fi: b/g/n(2g)
Bluetooth: 4.2
Maker: ABIT
License:
obniz Cloud No Expiry License Included.
Size

93 x 27 x 8 mm

Weight

21g

Power

USB TypeA
Condition
Temperature:0℃〜40℃
Humidity:20%〜80%
Communication
LTE Cat.M1
IEEE 802.11b/g/n (2.4 GHzのみ)
SIM

Nano-SIM / 4FF

Career

NTT DOCOMO

Bluetooth
Bluetooth 4.2
Wi-Fi
IEEE 802.11b/g/n (2.4 GHzのみ)
Manufacturer

ABIT
License

No Expiry obniz Cloud

---
We Also Recommend